Great White Water Sports, LLC (GWWS). is Hampton Road's premier water sports rental company.  The business was inspired by two family oriented entrepreneurs who were tired of being disappointed by the poor customer service and lack of safety protocols they experienced from other companies around the world.  Thus, GWWS was formed with a commitment to making safety fun.  GWWS patterns itself after companies like Disney, companies who understand the importance of the customer experience.  The ability to provide an awesome, memorable, and safe experience for a 2 year old, or an 82 year old, is a delicate balance which GWWS takes great pride in.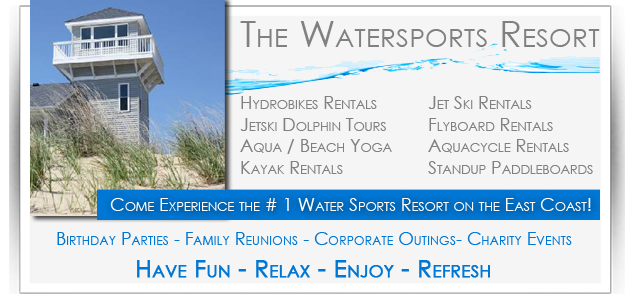 Because of the standard of excellence it requires from its equipment and staff, GWWS has been fortunate to provide services for everything from the World Wrestling Entertainment, (WWE), Proctor & Gamble, Entercom Radio (Z104 95.7, 2WD, the Point), NBA & NFL athletes, to well deserving charities, family reunions, and children's birthday parties.
These experiences have combined to produce hundreds of pictures, videos, testimonials and rave reviews. Therefore, GWWS has been in featured in the USA Today, Voted "Best of Hampton Roads" by the Virginian Pilot, and currently ranks in the top 10 of "Things to Do" in Virginia Beach. GWWS provides unique experiences like Aqua Yoga (yoga on while on a stand up paddleboard), StandUp Paddleboards (SUP), HydroBikes, traditional experiences like Jet Skis, Kayaks, Fishing Boats, Canoes. GWWS is a pioneer in its industry, always looking for unique and exclusive experiences like the Jet Ski Dolphin Tour, and the Aquafly (via Flyboard), this season's new high powered flying experience.
Great White Water Sports, LLC. operates directly from the beach, with a 4,000 sq. ft. facility, that features (Xscape LOFT) for its customers and clients, a 1,100 sq. ft. gift shop downstairs great for beach/water sports oriented gatherings (The Water Sports Resort), and of course the breathtaking scenic waters of the Chesapeake Bay, which are scientifically proven to be calmer, warmer, and safer than the ocean. GWWS is the only water sports company where you can make it a day at the beach, as beach volleyball, and cornhole are included with any rental purchase. GWWS is centrally located, between the Peninsula/Williamsburg area and the Virginia Beach oceanfront, being only about 20 minutes from either.
Of all the poems, songs, and literature dedicated to the beauty of the Chesapeake Bay, none describes it better than a journal entry from the 15th century explorer who first mapped the area:
 "We'll See You on the Water!"